bekatari
FOOD & WINE STORIES
by Alexandria de Aranzetaweekend chef.
sometimes somm.
forever culinary explorer.
---
COOKING SHOULD ALWAYS BE AN EXPERIENCE
"I have had a number of Airbnb experiences and several cooking classes (all with Michelin-starred chefs) and Alexandria's class has been my favorite! What an engaging and thoughtful person! Her personal stories and knowledge about Spain made the downtime in between cooking classes fly by. The dish we made (piperade) was absolutely delicious! If you're a novice when it comes to cooking, this is the class for you. She breaks down each step and asks to see your progress to give immediate feedback. I highly recommend this class! - 'Basque Gastronomy-Piperade & Pintxos' Airbnb Online Experience Participant
"Wonderful experience! We hosted a virtual class for our corporate team and everyone really enjoyed it. Alex is a personable host, even engaging our shy team members. Already setting up our next event with her." - 'Basque Gastronomy-Piperade & Pintxos' Airbnb Online Experience Participant
"I joined this class because she offered vegan cooking. It was not only a simple and yummy recipes but she also explained the arrangement of the dishes. That made me more confident to make pintxos by myself later because it was just a leftover from the fridge!" - 'Basque Gastronomy-Piperade & Pintxos' Airbnb Online Experience Participant
"I loved cooking with Alex! We've been cooking a lot from recipes. I appreciated how Alex talked about the process and what factors she considered when creating and balancing a dish. That's not something that always comes through from recipes." - 'Capsule Cooking' Class Participant
"What a fun and informative class! Alexandria's background and skill set in leading cooking classes, creating connections between the participants, and her passion about the cuisine and culture truly made this a great experience. I'm loving the food that we made and the time we had together. Highly recommend!" - 'Basque Gastronomy-Piperade & Pintxos' Airbnb Online Experience Participant
"This was such a lovely event and a fun way to spend a Sunday morning! [...] has me very eagerly looking forward to trying these dishes and looking at my pantry in a new way." - 'Capsule Cooking' Class Participant
---
© 2015-2023. All rights reserved.
RUM BALLS
A seasonal favorite, rum balls have been in my family for at least four generations. This is my great-grandmother's recipe for the holiday classic, using Karo's light corn syrup and Nabisco Nilla wafers, two brands from the late 19th- and early 20th- century that are still around today.According to food history, rum balls were first created by bakers in Denmark, who recognized use for cake and cookie scraps left over at the end of the day. They combined the leftovers with jam and liquor, molded them into balls, and rolled them in coconut flakes or chocolate.This recipe can also be adapted to be gluten-free and vegan with relative ease - just substitute the crushed Nilla wafers for a gluten-free or vegan variety. And the best part is that these can be prepared in under 30 minutes and don't require an oven!INGREDIENTS
1 cup crushed Nilla wafers (breadcrumb size)
1 cup powdered sugar
2 tbsp unsweetened cocoa powder
1 ½ cups finely chopped pecans (walnuts or hazelnuts work well too)
2 tbsp light corn syrup
1 teaspoon pure vanilla
¼ cup dark or gold rum
Cane sugar, for rollingINSTRUCTIONS
First, prep pie plate with cane sugar for rolling and set aside (your hands will be sticky quickly)In a food processor, pulse Nilla wafers until breadcrumb size. Then, measure 1 cup and set aside. Alternatively, you can crush wafers using a rolling pin or wine bottle and a ziploc bag.In a large mixing bowl,
Combine all your dry ingredients. Mix together with a spoon until blended.Then, add vanilla, rum & light corn syrup. Mix thoroughly with a spatula, folding ingredients until thoroughly combined and rather sticky. Or, using regular beaters and a mixer, blend on medium speed until thoroughly combined.Roll into evenly sized balls, a bit smaller than golf balls. This recipe should make approximately 20-24 depending on your chosen size.Lastly, roll each ball in sugar and set aside.These will keep for at least 1-2 weeks in an airtight container, if they last that long!Note: Because rum balls are no bake, the liquor does not bake off and are therefore suitable for adults.🍷 Suggested Pairing: Old Vine Zin from the Alexander Valley or Coffee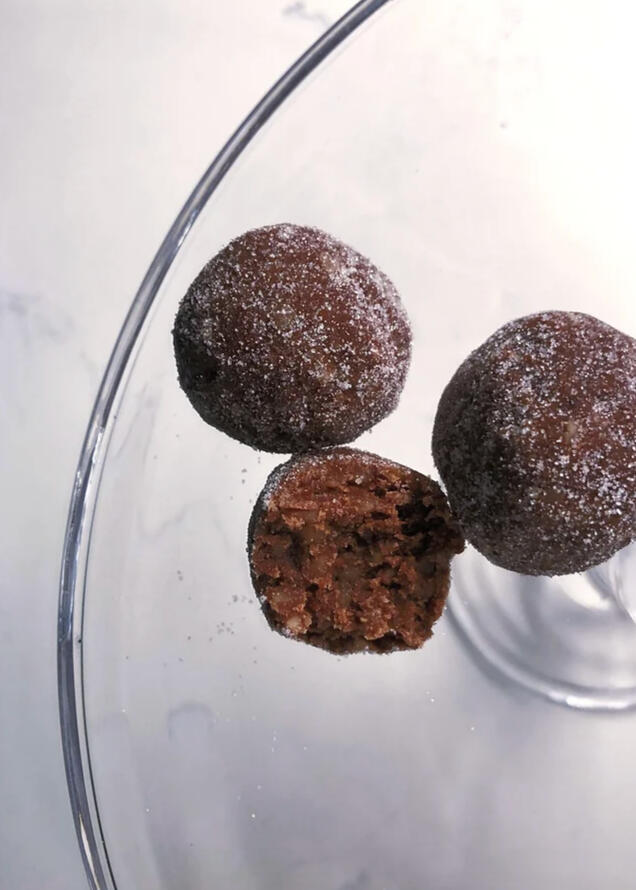 BASQUE CHEESECAKE
It seems there is no shortage of posts about Basque-inspired cheesecake, inspired by the Euskadi original tarta de queso. I use the word 'inspired' with intention, because any versionS of this cheesecake other than those made by a Basque or in the Basque country can only be 'inspired.' I believe this rule should hold true for other cultures' heritage recipes, too.I found a video of Chef Santiago Rivera from La Viña restaurant in Donostia and studied several recipe interpretations of the classic. It seems there are inconsistencies in the amount of eggs, temperature and bake time out there, and these versions are all worth testing. I've iterated only slightly from Chef Rivera's version, the original based on his explanation and what I observed and translated in the 1990s video.This beauty is made with basic ingredients: sugar, flour, cream cheese, eggs & milk. Although, I do think you could probably skip the flour, since the quantity is so insignificant. I incorporated mascarpone because I'm just not convinced cream cheese in the U.S. stacks up to what La Viña has in mind or their pantry. I also added Tahitian vanilla bean. Despite its appearance, the cheesecake does not taste or smell bitter or burned; instead, finishing it at 440F gives it the flavor and aroma of dulce de leche & the exterior a caramelized, crust-like texture.This recipe is for a small version, using an 8" cake pan, and yields 6 slices. You can also use a springform.INGREDIENTS
.8 cup sugar
2 packages (16 oz) cream cheese, room temperature
4 oz mascarpone, room temperature
pinch of pure vanilla bean or 1 tsp pure vanilla extract
4 eggs, room temperature
.8 cup cream, at room temperature
pinch salt
1/2 tbsp flour, siftedINSTRUCTIONS
1. Butter and line an 8" cake pan or springform with parchment, creasing and folding into the edges while leaving it wild around the sides. Preheat oven to 400°F.2. Using a mixer, combine room temperature cream cheese and mascarpone until no longer lumpy, but smooth.3. Add sugar and vanilla and beat until it is well integrated, approximately 2-3 minutes.4. Slowly add eggs, one by one, mixing between each egg. Do not overmix. (La Viña notes the importance of not introducing unnecessary air, but simply combining all ingredients).5. Add flour and salt. Mix until it's not visible.6. Lastly, pour the cream and mix until homogenous.7. Pour batter into pan and agitate to remove air bubbles by softly tapping it on the counter.8. Bake for 40-50 minutes, and check after 30 minutes. If the top is browning too much after 30, cover with aluminum foil then continue baking for another 10 minutes. It will have risen and expanded, and will deflate and become more dense when cooling.If it is not browning, turn the heat up to 440°F and bake for 10-15 minutes until the top darkens and appears to caramelize. It will still appear jiggly in the center.9. Turn off oven and open door to let cool for approximately 1 hour. Remove from oven once cool and lift from pan using parchment "handles," or release the springform. Peel parchment away from the sides, slice, and enjoy.🍷 Suggested Pairing: Monbazillac or Sauternes
PERSIAN-INSPIRED SHORTBREAD
This shortbread is nothing 'short' of divine. It's a perfect anytime cookie that can be adapted for the holidays with a subtle change in nuts and spices. For the holidays, I tend to add cardamom and pistachios with a bit of almond extract.Interestingly, the true birthplace of the first cookies, which closely mirror shortbread, lies centuries ago in Persia around 7 A.D. Persia had a strong sugar culture, and its use of refined sugars was renown. That part of the world also had sifted flour as early as 3000 B.C.E. from grains including wheat, albeit a bit different than the processed all-purpose flour we use today. Other flours may have included gram flour (garbanzo), pulverized nut flour, or a version of atta flour, all of which may be blended with or substituted for the all-purpose flour below.INGREDIENTS
12 tbsp unsalted butter, room temperature (substitution: vegan butter)
⅓ cup sugar
1 ¾ all purpose flour
Pinch baking soda
½ cup chopped pistachios (substitution: sliced almonds or walnuts)
Splash of pure vanilla extract & almond extractINSTRUCTIONS
In a large mixing bowl, cream together butter, sugar, and extracts for 1-2 minutes until fluffy. Then, add flour, baking soda and nuts du jour and mix until combined.Roll into 1" balls, flatten into ovals and taper each end to form an almond shape. Space evenly on a baking sheet lined with parchment.Bake at 350°F for 16-20 minutes, until just beginning to turn a light hay color (but largely still very light). Let rest for 3-4 minutes, then remove to a rack or plate and let cool.🍷 Suggested Pairing: Sherry oloroso or rose-cardamom tea
CLAFOUTIS
A quintessential dessert in my rotation is the clafoutis paired with an infused créme chantilly. It works across all seasons, simply by swapping fruit or nuts. I've shared my clafoutis key below with some of my favorites.Spring - black cherry; rhubarb
Summer - blackberry; currant; plum
Fall - persimmon; pear
Winter - cranberry; sliced almondsSeasonal Clafoutis
Difficulty Level: Easy
Time: 1 hourINGREDIENTS
1 cup fruit (cranberry, blackberry, cherry, etc.)
½ cup heavy cream, cool but not ice cold
½ cup whole milk, cool but not ice cold
3 eggs, room temperature
½ cup sugar
½ cup flour, sifted
½ tsp pure vanilla extract
½ tsp almond extract
Zest of half a small orange (for cranberry or cherry only; all other fruit use lemon zest)
Pinch salt
⅓ cup raw, sliced almonds (optional)
Splash of Grand Marnier, St. Germain or other liqueur (optional)
Butter, for coating pie plate
2 tbsp cane sugar, for coating buttered pie plateUtensils: pie plate, measuring cups, whisk, mixing bowl, graterINSTRUCTIONS
First, butter and sugar an 8-9" glass pie plate (like a pyrex). I like to use a half stick of chilled butter, and "color in" the pie plate, ensuring all sides and bottom is thoroughly coated. Then, take 1/3 cup cane sugar and "dust" the buttered pie plate. The sugar will stick to the butter. Shake off any excess and save for the clafoutis. It will look like snow crystals (quite fitting for a winter cranberry clafoutis!)Next, arrange fruit on the bottom of the buttered and sugared pie plate, in a single layer. Place in the refrigerator to chill. This prevents weeping that occurs when sugar meets fruit.In a mixing bowl, whisk together eggs, cream, milk, sugar, vanilla/almond extract and zest. Incorporate sifted flour, salt and almonds, and whisk until smooth. Lastly, add a healthy splash of liqueur (optional), and whisk only to combine.Pour evenly into prepared buttered and sugared pie dish, over the fruit. Bake at 375°F for 30-35 minutes, until quite puffy and slightly golden (while still custardy in the center).Remove from oven and set aside to cool. Serve at room temperature or slightly warmed, with a dollop of chantilly (below).Créme ChantillyINGREDIENTS
1 cup heavy whipping cream, chilled
3 tbsp powdered sugar
½ tsp pure vanilla bean (or extract)
½ tsp orange blossom water* (optional)
Pinch saltUtensils: hand mixer w/ whisk attachment, small metal mixing bowlINSTRUCTIONS
Chill the mixing bowl in the refrigerator or freezer for 20 minutes before use.Add whipping cream and whip on high until soft peaks. Then, add flavoring, powdered sugar, and salt. Continue whipping to medium peaks.Spoon over clafoutis and enjoy!*You can infuse with any flavoring or spice, like almond extract, citrus zest, rosewater, mint, cardamom, or cinnamon (or even infuse the cream with lavender warmed on the stove-- just don't forget to chill it thoroughly afterward!)🍷 Suggested Pairing: Banyuls (for dark fruit) or Riesling Auslese
FIOR DI LATTE SEMIFREDDO
Italian semifreddo, or "half-chilled", is the perfect summer (read: anytime) dessert.It's easy to make if you take your time with each of the components. And the version I make is pasteurized, meaning it's safe for kiddos and pregnant women to enjoy.Here's my take on a classic, sweet cream semifreddo.Before you begin, separate your eggs into whites and yolks. And place a metal (or glass) mixing bowl in the freezer to be used later for the whipped cream. Don't forget to prep a 5" x 9" loaf pan by greasing the bottom and sides, and lining with cling or plastic wrap.INGREDIENTS
5 medium eggs, yolks and whites separated
2 cups heavy cream
1/2 cup sugar, divided
1/2 cup powdered sugar
3-4 tsp vanilla extract
1 tsp almond extract
2 pinches sea salt
Marsala, port or cognac, optionalINSTRUCTIONS
Step 1: Make Swiss Meringue.
In a small bowl, whisk together eggs whites, and 1/4 cup sugar.
Place in a double boiler over simmering water, whisking until sugar is dissolved and the temperature reaches 165° F.
Using an electric mixer, whip on high until stiff peaks form.
Add 1 tsp vanilla at the end, mix one more time & refrigerate.Step 2: Make Zabaglione.
Whisk together egg yolks, 1 tsp vanilla, and 1/4 cup sugar.
Place in a double boiler over simmering water, whisking until sugar is dissolved and it's thick and pale yellow. Be sure it reaches 165°F.
Continue heating and add 1/2 cup of cognac or marsala at this time (optional).
Transfer to stand mixer & whip on high until it doubles in volume (~3 mins).
Set aside to cool down.
Note: Zabaglione can be a dessert in itself. simply add lemon and orange zest and enjoy with Italian pizzelle or anisette cookie.Step 3: Whipped Cream
In a chilled bowl, whisk together cream, powdered sugar, and remaining vanilla until stiff peaks form
Add two pinches of sea salt and whip once more
Set asideTo assemble...
Fold zabaglione into whipped cream
Fold in meringue to the mixture
Pour into the prepped loaf pan, seal with plastic wrap and freeze for 6+ hoursWhen Plating...
Lift from loaf pan, using the plastic wrap as handles, and invert on a serving platter.
Run a metal icing spatula under hot water, and smooth out the top and sides.Add chocolate curls, berries, toasted hazelnuts or almonds, or any other topping of your choosing.🍷 Suggested Pairing: Moscato or sambuco
CAFÉ HORCHATA
The brutal heat waves of summer demand an adequate response: horchata. Made with a little espresso, this beverage makes for a refreshing lunch & ice-cream substitute. A little shaved dark chocolate never hurt, either.Horchata as we know it owes its origins to Africa, not Mexico; a version of this beverage was brought to southern Spain in the Middle Ages (horchata de chufa) for "cooling" off during hot weather. And what's interesting is that its roots date back centuries in the region.In Valencia Spain, it's made with tiger nuts, and in Mexico it's made using rice milk.Since I didn't have tiger nuts -- which by the way aren't actually nuts, but tubers-- I used almonds. It resulted in a frothy beverage that's vegan, dairy-free, protein-packed and delicious.Iberian-inspired Horchata
Here's what you'll need:2 cups ice, divided into two serving glasses and beverage shaker
Blender
Cocktail Shaker
4 oz coffee, brewed strong
2 cups Marcona almonds or similar
7 cups filtered water
Nut milk bag or fine mesh strainer and large spoon for pressing
Brown sugar or agave, to taste
Cinnamon
Sea salt
Pinch red chile, like New Mexican red chile or similar
Dark chocolate shavings, to garnishAlmond CreamStep 1: SoakIn a large bowl, soak 2 cups of almonds in some filtered water overnight. Then, drain and rinse.Step 2: BlendBlend 7 cups of filtered water and 2 cups of soaked almonds, and purée 30 seconds to 1 minute until frothy and milky.Step 3: StrainUsing a nut milk bag or fine mesh sieve, drain all the almond pulp (save it for use afterwards!) and squeeze out all the cream into a bowl. Pour into a jar or pitcher, and refrigerate to chill.You will have quite a bit of almond cream leftover that you can use for cereal, in coffee and as a dairy replacement.After you've made the almond cream...In a cocktail shaker, add the following, agitate until frothy, & strain into a serving glass:1.5 cups almond cream
1/2 cup ice
1 tsp cinnamon
2 oz. Mexican coffee
pinch of chile powder
pinch of sea salt
agave or brown sugar (or piloncillo), to tasteGarnish with dark chocolate shavings and cinnamon, and enjoy!This makes one serving.
FROM CHOCOLATE, WITH LOVE
Everyone seems to have their own approach to frosting recipes. Most of my buttercream recipes are adapted from my maternal grandmother, mémère, who inherited all the skills needed for executing perfect French cuisine and who, according to story, never once cooked or baked a bad dish.Or at least, she never showed anyone her "nailed it!" moment. I like to think I follow in her footsteps, at least when cakes are concerned.The lavender beauty on the cover boasts three layers of vanilla bean cake with apricot compote, frosted with a classic chocolate buttercream.Mémère's Chocolate ButtercreamUsing a mixer on medium-low, sift together:1/2 cup high quality cocoa powder, sifted 2x
3 cups powdered sugar, sifted 2x
1 cup unsalted butter, softened just past room temperature so your fingertip can create a hole when pressed in the centerOnce creamed, increase speed to medium and add:1 tsp vanilla
1 tsp almond extract
dash of cinnamon
pinch of salt
Cream, added tablespoon by tablespoon as needed to achieve a silky consistencyPro tip: Do not overmix. You're going for silky, not gummy. If your frosting needs to be thicker or thinner, add powdered sugar or cream by the tablespoon, as needed to achieve desired consistency.Next, adorned by a wreath of fresh berries below, four layers of dark chocolate-almond cake, nestled between blackberry buttercream (65% cacao) and toasted almonds, are enrobed in my signature rum ganache. I made this berry beaut for a friend's birthday party.Signature GanacheThis is my go-to recipe for a quick and easy (and delicious) rum ganache. In a saucepan, simmer 1 cup of heavy cream until bubbles form on the sides and top, and it is steaming hot. Don't let it boil; it will curdle.Pour hot cream over a bowl of 8 oz. slivered dark chocolate (65-75% cacao) and let rest for a 1-2 minutes to melt the chocolate. Stir to combine (careful not to don't overblend).Then, fold in the below ingredients: into the mixture.
1 tsp vanilla extract
1 tsp almond extract (1/2 tsp)
1 tbsp rum
pinch of saltTo make lavender-infused ganache, add 2 tbsp food-grade lavender buds in the cream while it's heating. Bring to simmer for a few minutes. Remove from the heat, strain buds, and follow the rest of the ganache recipe. Other infusions can include Grand Marnier, cognac, ginger, chili, orange blossom or rosewater, and more!The luscious number below dripping with ganache is something I made for a work event (pre-covid). It's where Oaxacan mole meets French ganache. Three midnight chocolate layers are complemented by filling four layers of deconstructed mole– a homemade chutney of tomato, onion, pepper, chili, jaggary, and spices. The midnight chocolate buttercream and rum milk chocolate ganache is enlivened with urfa, a smoky Turkish black pepper.
ORANGE BLOSSOM & SAFFRON PANNA COTTA
Summer is calling. Let saffron lead the way.This dessert is light, lovely, and plates like a warm summer sunrise.In a saucepan, add and let bloom for 2-4 minutes:1 1/4 tsp gelatine (powder)
3/4 cup of heavy cream
Heat saucepan on low, and slowly add, whisking until dissolved:
2.5 tbsp sugar
3/4 cup heavy cream, chilled
1.5 tsp orange blossom water*
1 tbsp Grand Marnier liqueur
1/2 tsp saffron
1/2 tsp orange zest
Cool to room temperature, and whiskOnce at room temperature, pour into 4 room temperature ramekins, agitate to release air bubbles, then refrigerate several hours until firm or overnight.When ready to serve, heat water in medium saucepan. Hold ramekin in the hot water for about 10 seconds, without the ramekin touching the bottom of the pan. You'll hear pops as the panna cotta is releasing. Turn and place in the water for 10 more seconds.Using back edge of knife, run it around the edge of the ramekin to release the panna cotta.Turn over on plate and serve. Some of the cream will have liquefied and will drip. It's okay.To plate this dish like I have above, choose an oval or rectangular plate to accommodate for the cream. Garnish boldly with different textures.*Be sure the mixture is not too hot when adding orange blossom water🍷 Pairing Suggestion: Vouvray or Moscato